Mercedes ML Alloys and Grabber AT2s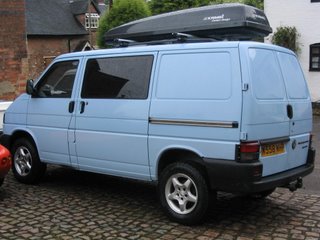 Fitted the Merc ML alloys which are I bought off ebay. The reason I went for these wheels is because they have the same PCD as VW wheels, the ML has GVW of 2800kg the same as my VW T4. Also I wanted to go for 16″ wheels to fit AT type tyres and I now have 5 wheels as I didn't own a spare before.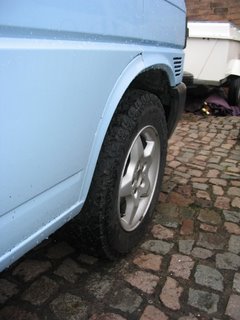 I went for General Grabber AT2 as they get good write ups for on road and light off road use, the size I went for is 215/70 so they are about 9% larger than std T4 steelies. I had to get some spigot rings made up as the Merc centrebore is larger than VW but it only cost me a couple of beers.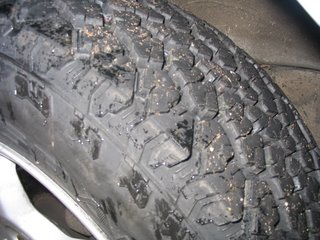 Went for a test drive and they don't seem to noisy. I just need to sort out some covers for the centrebores and sort the rust wheel nuts.
You might have noticed my new Kamei carbon design roof box which is fitted ready for our trip.