I continued fitting the Styleline kit today. I'd finished the flooring and insulation last weekend and it was now time to move onto fitting the panels.
When fitting the plastic panels the first step is to fit the new velour covered roof lining, this matches the roof lining in the cab area very well. I fitted the rear section of the roof lining using the original VW plastic clips. I then started fitting the front roof lining and realised I'd need to trim the hole in the roof lining for the sunroof. I carefully trimmed this and fitted the front roof lining again with the VW plastic clips.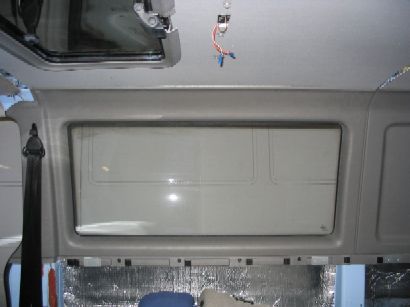 I then fitted the plastic panels on the drivers side. The panels are fairly simple to fit and just need lining up with holes that are already in the van. They panels are held in place with a combination of plastic rivets and screws. My top and bottom rear panels on both sides of the van required a bit of work as I had to cut some holes to allow the U brackets that hold the back of the multivan seat to pass through the panels. (Normally the Styleline kit is fitted with a Reimo Variotech seat) I used a Dremel type tool for cutting these holes and made the holes as small as possible.
I then started to fit the top and bottom rear panels on the passenger side of the van and hit a bit of a snag. Since my van is a Syncro there is an extra support where the spare wheels bolts above the left hand wheel arch. It was evident that this support would need removing as it was stopping the panel from fitting. Unfortunately it was spot welded to the chassis and I didn't have any suitable tools with me for removing the spot welds. The spare wheel support can be seen in this picture above and central on the wheel arch.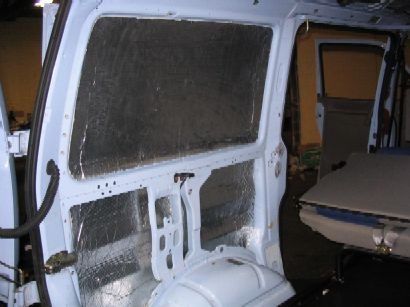 So I jigsawed the strut close to the top rail and close to the wheel arch as at least this would allow the panel to fit. I then fitted the panels but the extra bit of metal welded on the rails is causing the top panel to twist slightly and compromise the fit. It isn't particularly noticeable but I intend to remove the panels and then drill out the spot welds and remove the offending piece of metal when I get chance.
Because of the setbacks today I didn't manage to get all the panels fitted and I still have the sliding / rear door panels and a few others to fit. But the main panels are now fitted.