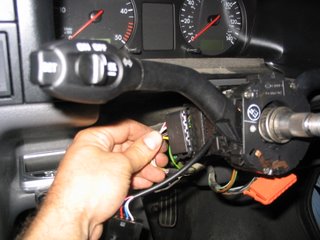 I fitted a VW cruise control when I got home tonight, it consists of a new indicator stalk with some extra buttons and connector wire to connect it to the cruise control socket on the look of the van. Its not compatible with all T4 vans, you have to own one which is fly by wire. The 2.5 TDI engined T4s are fly by wire.
It was pretty straightforward to fit as my van doesn't have an airbag so I won't go into details but the only tools I needed were a 24mm socket, philips screwdriver, 3 cable ties and some spray grease. The only difficult part that I will mention is finding the connector to plug the indicator stalk cruise control connection wires into, this was hidden right at the back of the huge bunch of wires behind the fuse box. To find it I had to completely remove the fuse box and then cut the cable tie around all the wires and carefully look through the wires, the connector was right at the back next to the bulkhead.
I now just need to get it activated using VAG COM and I'll hopfully get the local VAG specialist to do this next time I pop over.